The latest business news as it happens
Article content
Today's top headlines
Article content
---
4:37 p.m.
Market close: TSX down, U.S. stock markets mixed
Canada's main stock index closed down by almost 50 points, while U.S. stock markets were mixed on the final trading day of what has been a difficult month for investors.
The S&P/TSX composite index was down 49.47 points at 19,541.27.
In New York, the Dow Jones industrial average was down 158.84 points at 33,507.50. The S&P 500 index was down 11.65 points at 4,288.05, while the Nasdaq composite was up 18.05 points at 13,219.32.
The Canadian Press
---
2:08 p.m.
Sunwing Airlines to fold into WestJet within a year
WestJet Airlines Ltd. says it aims to wind down Sunwing Airlines and integrate the low-cost carrier into its mainline business by October of next year.
WestJet, which bought the Toronto-based company's main airline and vacation divisions in May in a move representing a major consolidation of the aviation market, says Sunwing's 18 Boeing 737s and 2,000 employees will be folded into the Calgary-based carrier in a seamless transition.
WestJet and Sunwing together make up 37 per cent of seat capacity on direct flights to sun destinations, and 72 per cent from Western Canada, according to a report from the Competition Bureau last fall.
Article content
Some experts have warned that the move could mean less service and higher fares — particularly in Western Canada and smaller cities across the country.
As a condition of Ottawa's sign-off on the Sunwing acquisition, both parties pledged to maintain capacity on the most affected routes and keep the Sunwing Vacations head office in Toronto and a regional one in Montreal for at least five years.
The integration process is underway as WestJet prepares to bring budget subsidiary Swoop under its flagship banner by the end of next month after reaching a new collective agreement that put pilots at both segments onto a level field of pay.
The Canadian Press
---
1:42 p.m.
OSFI turns up scrutiny on commercial real estate lending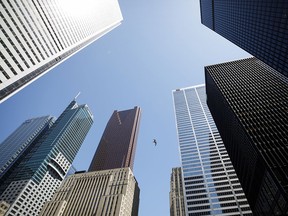 Canada's top banking regulator is increasing scrutiny on how the country's largest financial institutions are managing their commercial real estate portfolios amid rising interest rates that are creating vulnerabilities in the sector.
"Commercial real estate (CRE) is highly cyclical with the potential for significant losses, especially when risks are not effectively managed," the Office of the Superintendent of Financial Institutions said in a Sept. 29 notice. "In the current rapidly evolving risk environment, high inflation and rising interest rates have increased the potential for a rise in the number of borrower defaults."
Article content
OSFI said the notice is in response to the regulator's ongoing supervisory work in the heightened risk environment and is intended to provide "interim" regulatory guidance to make sure lenders are adequately managing the risks in commercial real estate lending including underwriting, account management, and portfolio management.
Read more by Financial Post's Barbara Shecter
---
12:17 p.m.
Stellantis spared from additional UAW walkouts
Article content
The United Auto Workers will spare Jeep SUV maker Stellantis NV from additional walkouts after a last minute breakthrough.
The newly targeted facilities are a Ford Motor Co. factory in Chicago that produces the Explorer model and a General Motors Co. plant in Lansing, Michigan that manufactures the Chevrolet Traverse, UAW President Shawn Fain said Friday.
The union had also planned to strike at Stellantis, according to officials briefed on the matter, but changed course right before Fain's announcement, which was delayed due to the negotiations. The union chief commended Stellantis for making progress in the talks.
"We are excited about this momentum at Stellantis and hope it continues," Fain said in a livestreamed briefing. "Moments before this broadcast, Stellantis made significant progress on cost of living allowance, right not to cross picket lines as well as the right to strike over product commitments and plant closures and outsourcing moratoriums."
Bloomberg
---
12:05 p.m.
Coastal GasLink pipeline project 98 per cent complete
TC Energy Corp. says its Coastal GasLink pipeline project is 98 per cent complete.
Article content
Coastal GasLink is a 670-kilometre pipeline spanning northern British Columbia that will carry natural gas across the province to the LNG Canada processing and export facility in Kitimat, B.C.
TC Energy says the pipeline will be mechanically complete before the end of the year.
Earlier this year, the company raised the estimated project price tag for Coastal GasLink to $14.5 billion, up significantly from a previous estimate of $11.2 billion and more than double the initial cost estimate of $6.2 billion.
Over the course of the project, the pipeline's construction has also attracted opposition and protests from environmentalists and Indigenous leaders.
While many Indigenous groups along the project's pathway support the pipeline, the hereditary Wet'suwet'en chiefs, whose territory the pipeline crosses, do not.
The Canadian Press
---
11:56: p.m.
Midday markets: TSX flat, U.S. stock markets mixed
Canada's main stock index was essentially flat, while U.S. stock markets were mixed on the final trading day of what has been a difficult month for stock markets.
Article content
The S&P/TSX composite index was up 1.36 points at 19,592.10.
In New York, the Dow Jones industrial average was down 43.92 points at 33,622.42. The S&P 500 index was up 15.50 points at 4,315.20, while the Nasdaq composite was up 88.54 points at 13,289.82.
The Canadian Press
---
11:15 a.m.
Ottawa posts $1.2-billion deficit between April and July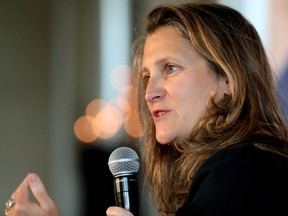 The federal government posted a budgetary deficit of $1.2 billion during the first four months of its fiscal year, compared with a surplus of $6.3 billion during the same period a year earlier.
The Finance Department released its monthly fiscal update today, offering insight into the federal government's finances for the 2023-24 fiscal year.
The report shows government revenues were up $2.8 billion, or two per cent, which the department says largely reflects higher interest revenues and other non-tax revenues.
However, program expenses excluding net actuarial losses were up $7.2 billion, or 5.9 per cent, as expenses rose across the board.
Higher interest rates have also pushed up public debt charges by $3.3 billion, an increase of 29.9 per cent from the previous year.
Article content
Meanwhile, net actuarial losses decreased by $200 million or 4.7 per cent.
The Canadian Press
---
10:54 a.m.
UAW extends strikes against 3 more GM, Stellantis, Ford plants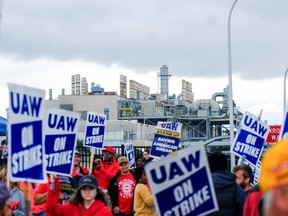 The United Auto Workers union plans to expand its strike against General Motors Co., Stellantis NV and Ford Motor Co. to three more assembly plants, according to officials briefed on the matter.
Unlike the last week, Ford was not spared the expansion of the walkout, the officials said.
UAW president Shawn Fain is ratcheting up the pressure on carmakers as the work stoppage extends into a third week. Negotiators continue to haggle over issues including wages, pensions and battery workers. The strike targets include one facility from each company, according to the people, who asked not to be named because the plan isn't public. The strikes are expected to take effect at noon local time in Detroit.
Bloomberg
---
10:15 a.m.
Businesses battered by borrowing costs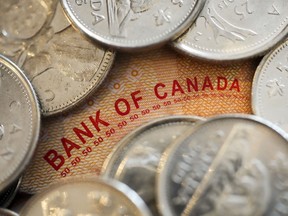 More than half of small businesses in Canada are having difficulties with borrowing costs, the highest percentage since tracking began in 2009, the Canadian Federation of Independent Business said today.
Article content
A record share of businesses, 36 per cent, also said a shortage of working capital was one of the biggest limitations on growth, the latest CFIB Business Barometer showed.
"The Bank of Canada tapped the brakes more firmly with its rate hikes in June and July. Although it kept the rate unchanged at five per cent this September, a large and growing number of businesses now deal with significant financing challenges, on top of the already very difficult business environment," said CFIB economics director Andreea Bourgeois.
Rising costs for fuel, energy and wages are adding to the burden, businesses said.
The CFIB confidence index also dropped significantly, with Ontario and Quebec at the bottom of the scale.
Financial Post
---
9:30 a.m.
Stock markets are open: TSX, Wall Street gain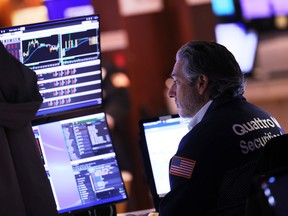 North American stock markets rose following some encouraging signals on inflation, but U.S. stocks are still likely to close September with its worst month of the year so far.
The S&P 500 was 0.7 per cent higher shortly after the open of trading on Friday. It's on track for its first three-day winning streak of the month. The Dow was up 159 points, and the Nasdaq composite was one per cent higher.
Article content
In Canada, the S&P/TSX composite index rose 0.80 per cent.
Nike Inc. jumped after reporting better profit for the latest quarter than analysts expected.
Stocks broadly got a boost after Treasury yields eased further off their highest levels in more than a decade. Oil prices rose.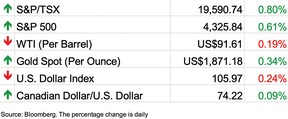 The Associated Press
---
9:00 a.m.
RBC to report losses on debt sales from City National portfolio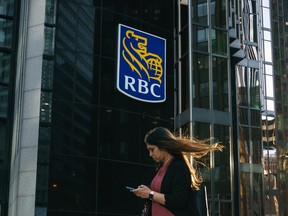 Royal Bank of Canada made a capital injection into City National Bank and said intercompany sales of debt securities will result in realized losses at the United States unit.
The losses will show up in a regulatory report for the three months through September, but will be eliminated at the parent company level, the Toronto-based lender said in a statement Friday. City National reinvested most of the proceeds in new securities for its liquidity and investment portfolio, a move likely to benefit net interest margins, Royal Bank said.
The injection will boost City National's liquidity and capital position and allow the US division to pay down higher-cost borrowing, Royal Bank said in the statement.
Article content
City National was swept up earlier this year in the US regional-bank turmoil, which hurt liquidity and net interest margins — the difference between what banks make from lending and what they pay for deposits — at banks across the country.
At City National, "everything went against us this quarter," RBC chief executive Dave McKay said on a conference call with analysts last month. "This business is well below our expectations for this year."
Bloomberg
---
8:30 a.m.
Growth in Canadian economy flat in July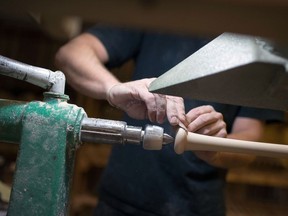 Real gross domestic product in Canada was essentially unchanged in July, Statistics Canada said Friday.
Services-producing industries ticked up 0.1 per cent and goods-producing industries contracted 0.3 per cent.
The manufacturing sector fell 1.5 per cent, the largest contraction in all industries in July, and its largest since April 2021.
Statistics Canada estimates GDP rose in August by 0.1 per cent.
Financial Post
Read the full story here.
---
8:20 a.m.
Canada already in a recession: David Rosenberg
Article content
Is Canada already in recession? Economist David Rosenberg thinks so. Real gross domestic product (GDP) dipped at a minus 0.2 per cent annual rate in the second quarter and the momentum so far into the third is minus 0.4 per cent even though population growth is at a five-decade high of 2.5 per cent, he points out in his Breakfast with Dave newsletter. Furthermore, industrial production has fallen in two of the past three months, housing starts have collapsed 11.0 per cent at an annualized rate in the past two months and real retail sales have declined at a 1.7 per cent annual rate over the past three months. Real gross domestic income, he added, is definitely in a recession, having contracted for four quarters in a row, most recently falling at a 2.6 per cent annual rate in the second quarter.
"The population story has masked the fact that the pace of real economic activity is eroding on the back of years of neglect of private-sector capital stocks and a structural erosion in productivity," Rosenberg said. "There is no sense debating this: Canada is in recession by almost any measure. And the Bank of Canada is playing with fire if it decides to pile on more rate hikes to what has already been the tightest policy stance since the John Crow era of the late 1980s. Remember how that ended?"
Article content
Financial Post
---
8:04 a.m.
Volkswagen scraps plan for new $2-billion EV factory in Germany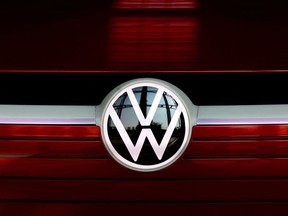 Volkswagen AG is shelving a plan to build a €2 billion (US$2.1 billion) factory for an important new electric-car project dubbed Trinity, opting instead to make the model at its existing plant in Zwickau.
The decision is part of a broader move to allocate production of new electric vehicles across its facilities, as the carmaker's namesake brand takes steps to finalize its five-year financial planning round expected in November.
VW's 20-member supervisory board on Friday approved the decisions, which included a plan to build the all-electric version of its popular Golf model at its main factory in Wolfsburg, the company said Friday. The plant in Osnabrueck will continue assembling Porsche models, including an electric model from the sports-car brand.
The decision to assign Golf production to Wolfsburg comes as the brand pushes through savings measures demanded by chief executive Oliver Blume. High demand anticipated for the model bolsters the argument to keep staffing levels high as a union-secured job security package runs out in 2029.
Article content
Volkswagen Commercial Vehicles is due to build a new family of electric models on the forthcoming scalable EV undercarriage planned for the end of the decade.
Bloomberg
---
7:50 a.m.
Unifor sets Oct. 9 deadline for General Motors contract talks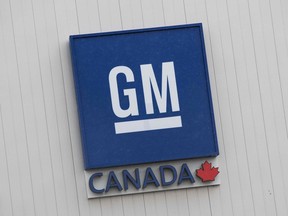 Unifor has set a deadline for its contract talks with General Motors Co. for 11:59 p.m. on Oct. 9.
Negotiations between the union and the U.S. automaker resumed this week after workers at Ford Motor Co. of Canada voted to approve a new contract.
The GM talks cover about 4,300 workers at the automaker's St. Catharines Powertrain Plant, the Oshawa Assembly Complex and the Woodstock Parts Distribution Centre.
Unifor is looking to use its agreement at Ford as a pattern agreement in its talks with GM and Stellantis NV.
The Ford deal included wage hikes, pension and benefit improvements, and special EV transition measures for workers at Ford's assembly plant in Oakville, Ont. It also added two new paid holidays.
The Canadian Press
---
7:30 a.m.
Air Canada pilots picket in Toronto as talks for pay raises continue
Air Canada pilots are demonstrating at Toronto's Pearson International Airport today, calling for better wages and working conditions as talks with the country's biggest carrier continue.
Article content
The Air Line Pilots Association kick-started the bargaining process in June, one day after fellow union members at WestJet Airlines Ltd. ratified a new collective agreement. The union represents more than 5,000 Air Canada pilots.
Both union and employer say the so-called informational picket at Terminal 1, which comes the same day their own nine-year deal expires, will not affect Air Canada's flight schedule.
Charlene Hudy, who heads the union's Air Canada contingent, says the agreement has grown stale, with co-workers leaving for better pay in the United States.
Air Canada says it remains engaged in productive discussions with the union, with the deal's provisions remaining in effect.
Pilots north of the border have been seeking gains that will bring them closer to deals won by their counterparts in the U.S.
Between March and September, pilots at Delta Air Lines, United Airlines Inc. and American Airlines Group Inc. secured agreements that included four-year pay hikes ranging from 34 per cent to 40 per cent.
Hudy called the wage gap between Canadian and American pilots "unacceptable."
Article content
"We're striving for this world class contract that Air Canada pilots do deserve," she said, highlighting career progression and job security as other points of contention.
"There was a point in time back in 2013 when we were pretty comparable — almost even — with our fellow counterparts at United." But starting next year, United pilots will earn 92 per cent more, she said.
Air Canada spokesman Peter Fitzpatrick said the ongoing discussions are "a normal part of the bargaining process."
"We are committed to reaching a fair, negotiated settlement with our pilot group," he said in an emailed statement.
The Canadian Press
---
Stock markets: Before the opening bell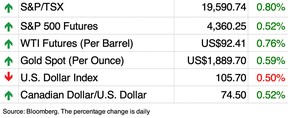 U.S. stock futures are headed higher on the last trading day of the quarter and the global bond selloff has eased after some dovish comments from Federal Reserve policymakers and signs that European inflation is slowing.
Oil prices slipped yesterday with WTI falling to US$91.71 per barrel.
Here are Thursday's top 3 performers on the TSX — and they're not energy stocks.
---
What to watch
Tick tock — a government shutdown in the United States is looking likely with Congress at an impasse before the deadline on midnight Saturday.
Article content
A shutdown would halt the paycheques of many of the federal government's roughly two million employees, as well as two million active-duty military troops and reservists, furlough many of those workers and curtail government services.
As time runs out, the House and Senate are pursuing different paths to avert these consequences.
"I still got time. I've got time to do other things," House Speaker Kevin McCarthy told reporters last night at the Capitol. "At the end of the day, we'll get it all done."
Who knows what today might bring.
Canadians will get a view on how the economy is faring this morning with the release of real gross domestic product numbers for July. An early estimate by Statistics Canada pointed to flat GDP this month and data releases since that have supported that, says Royal Bank of Canada.
Need a refresher on yesterday's top headlines? Get caught up here.
Financial Post and Associated Press
---
Related Stories
What unions have won in hard-fought summer of strikes

New AMT rules may mean donating more to charity this year
Additional reporting by The Canadian Press, Associated Press and Bloomberg
Bookmark our website and support our journalism: Don't miss the business news you need to know — add financialpost.com to your bookmarks and sign up for our newsletters here.