TikTok has emerged as a social media powerhouse, boasting over 1 billion monthly active users globally. While this platform is flooded with creative content and innovative creators, businesses are keen to tap into this expansive audience. In this bustling ecosystem, the role of a proficient TikTok influencer marketing agency becomes indispensable, providing the essential bridge between brands and influencers.
In this article, we'll delve into a comprehensive review of the top 11 agencies that are making waves in crafting compelling, engaging, and result-driven influencer campaigns, offering insights to make an informed choice for your brand's unique needs.
---
Top TikTok Influencer Marketing Agency Analysis
Top
tiktok influencer marketing agencies
2024
Office Location: Chattanooga, TN
Year Founded: 2021
Team Size: 10 – 49
Ubiquitous Influencer Marketing Agency excels in simplifying and amplifying the intricacies of TikTok influencer marketing. With an esteemed network of 4,000 creators, boasting 7.7 billion followers, they've refined the art of pairing brands with ideal influencers to breathe life into marketing campaigns and augment brand awareness. Their ethos of tailoring strategies and eschewing one-size-fits-all approaches underscores their commitment to bespoke service. Their analytical approach, grounded in median views and historical performance, diverges from the conventional, ensuring enhanced CPM and fostering robust relationships with both creators and brand partners.
Key Services:
Advertising

Affiliate Marketing

Branding

Digital Strategy

Social Media Marketing
Industries Served: Ubiquitous' diverse expertise is not confined to specific sectors, marking them as a versatile choice for an array of industries seeking to harness the power of TikTok for brand amplification.
Case Studies:
One of the notable successes is the case of Wienerschnitzel, where Ubiquitous' strategic approach yielded over 42 million impressions and resulted in sold-out specials, underscoring the agency's capability to translate creative collaborations into tangible business outcomes.
For Influencers: If you are looking for agencies to represent you click here.
---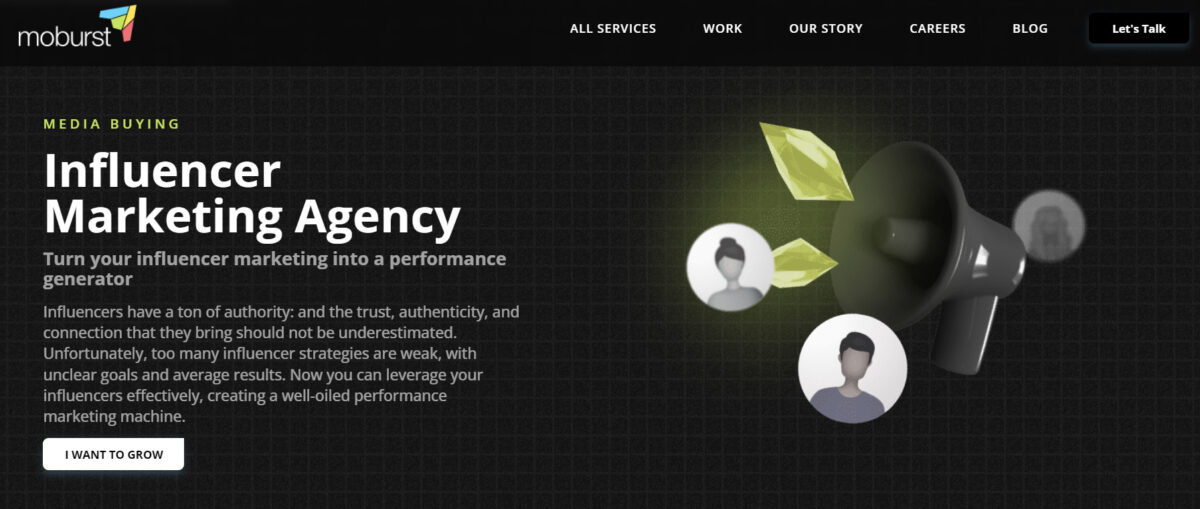 Office Location: New York, NY
Year Founded: 2013
Team Size: 10 – 49
Moburst stands as a paradigm of precision and innovation in the realm of TikTok influencer marketing. The agency is renowned for its comprehensive and meticulously crafted seven-stage process that guarantees every campaign achieves its zenith of effectiveness. With a focus on creative storytelling and advanced video production, the agency's unique approach ensures that brands not only achieve visibility but also resonate deeply with the target audience. Their holistic service encapsulates from defining KPIs and recruiting apt influencers to creative development and performance monitoring, underlining a commitment to excellence at every step.
Key Services:
Mobile & app marketing

Advertising

Social media marketing

Web design

Web development
Industries Served:
Social media and technology, electronics, retail technology and many others. 
Case Studies:
A testament to Moburst's expertise is vividly illustrated in their collaboration with Shopkick. The agency's strategic and creative approach propelled brand awareness and engagement, echoing the tangible impacts of their innovative campaigns. This case underscores Moburst's ability to not just conceptualize but effectively execute strategies that translate to measurable outcomes, affirming their position as leaders in TikTok influencer marketing.
---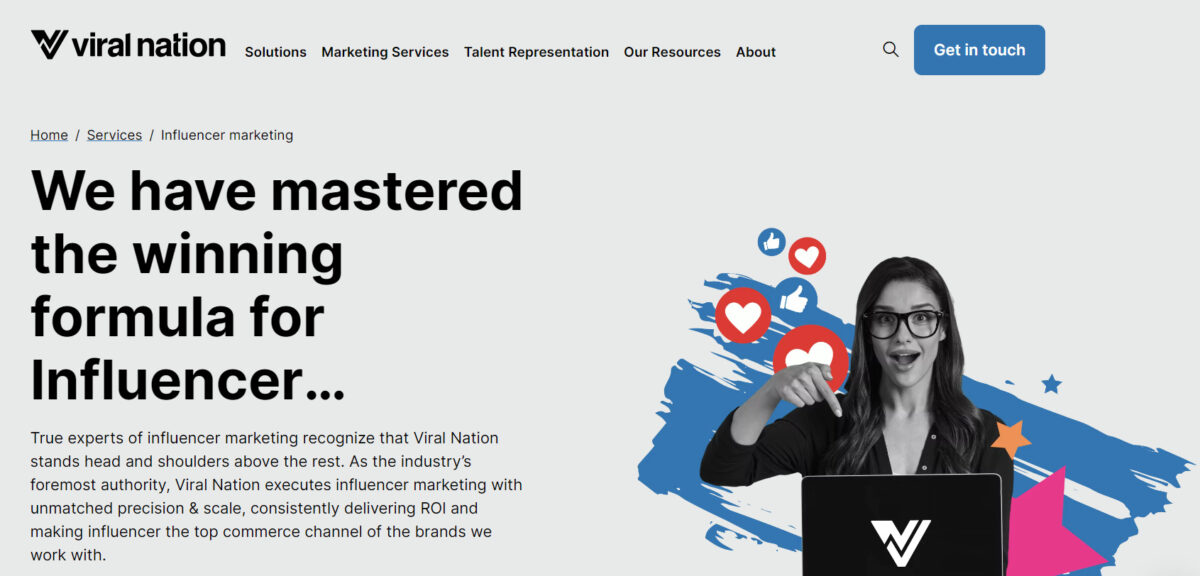 Office Location: Mississauga, Canada
Year Founded: Founded 2014
Team Size: 50 – 249
Viral Nation is globally recognized for its influential mastery of TikTok influencer marketing, characterized by its innovative, data-driven, and holistic approaches. With nearly a decade of experience, the agency has developed a strategic methodology that integrates cutting-edge technology and deep industry insights to elevate influencer marketing campaigns. Their proprietary AI, Viral Nation_Secure™, ensures brand safety, while the utilization of historical data guarantees optimal influencer matches and predictable, measurable results, establishing Viral Nation as a pioneer in executing influencer marketing with unrivaled precision and scale.
Key Services:
Social Media Marketing

Marketing Strategy

Mobile & App Marketing

Advertising, Branding

Content Marketing
Industries Served:
Lifestyle, apparel, beauty, retail, cpg, travel, qsr, consumer tech, gaming, food & beverage, and health & wellness. 
Case Studies:
Walmart partnered with Viral Nation to launch Walmart Land in the Roblox metaverse, aiming for expansive reach and robust engagement. Viral Nation orchestrated an innovative campaign involving celebrity, macro, and mid-tier influencers in gaming and lifestyle niches, introducing dynamic content, live reactions, and virtual tours amplified by Paid Media. This strategy yielded 66M impressions, 4.7M engagements, and a 30-point brand lift, marking the campaign's significant impact in enhancing Walmart Land's presence across the metaverse.
For Influencers: If you are looking for agencies to represent you click here.
---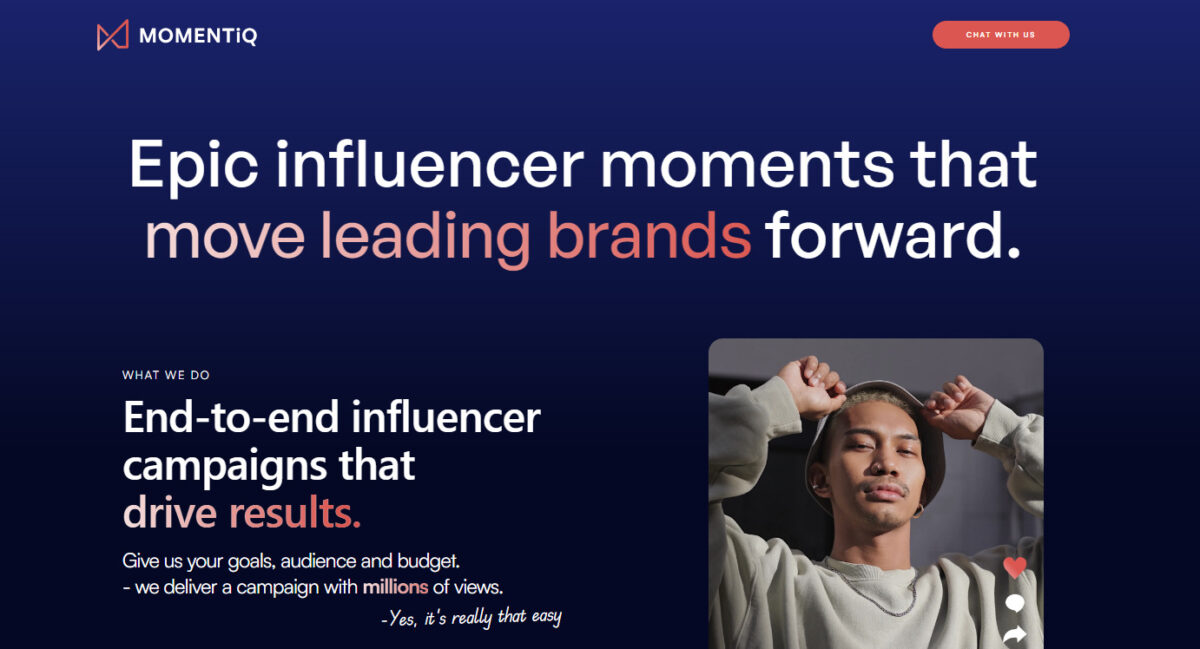 Office Location: Los Angeles
Year Founded: 2022
Team Size: 11-50
MOMENTiQ carves its distinct niche in the realm of TikTok influencer marketing with its streamlined, results-oriented approach. Specializing in constructing epic influencer moments, the agency is adept at crafting end-to-end influencer campaigns characterized by simplicity and effectiveness. With a focus on YouTube and TikTok, MOMENTiQ prides itself on transcending the norm, delivering campaigns that don't just capture but retain audience attention, fostering stronger brand awareness and engagements.
Key Services:
Youtube Influencer Marketing

UGC Content
Industries Served: Beauty, sports, fashion
For Influencers: If you are looking for agencies to represent you click here.
---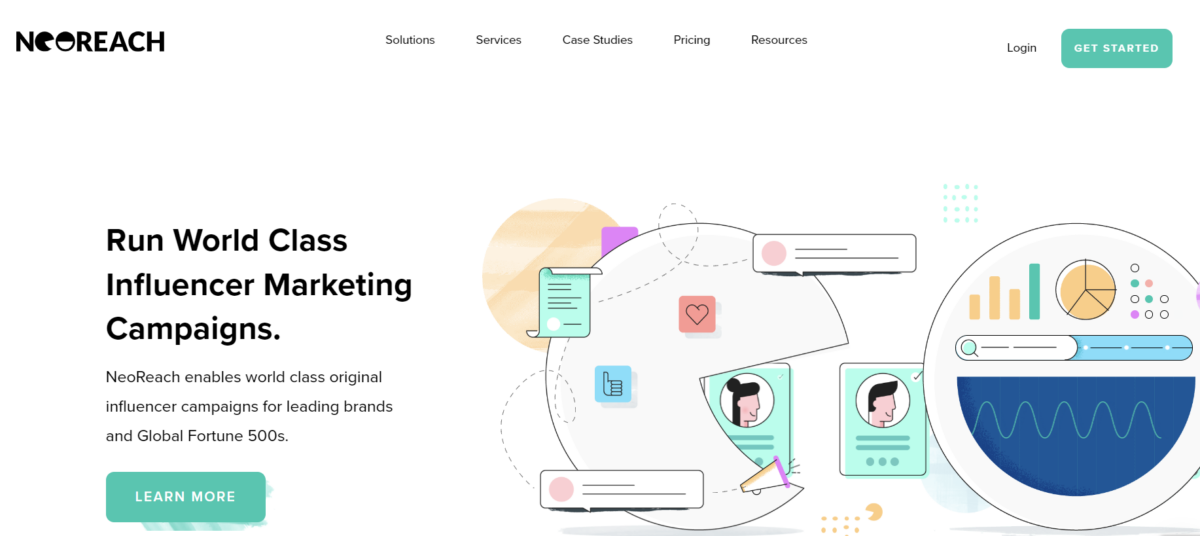 Office Location: Orlando, FL
Year Founded: 2013
Team Size: 50-249
NeoReach emerges as a vanguard in the TikTok influencer marketing landscape, epitomizing a harmonious blend of technology, strategy, and human touch. Positioned as a full-service influencer marketing agency, NeoReach takes a bespoke approach, tailoring each campaign with meticulous precision to resonate with the brand's essence and objectives. Their core lies in developing data-backed strategies, managing comprehensive campaign logistics, and delivering compelling, ROI-focused paid media amplifications. Every strategy is rooted in robust data analytics, ensuring that each campaign is not just felt but is measurable and impactful.
Key Services:
Social media marketing

Content marketing

Marketing strategy
Industries Served: E-commerce, technology, automotive, entertainment, retail, manufacturing
Case Studies:
NVIDIA partnered with NeoReach to promote their GeForce RTX 30 Series Laptops to STEM students in a Back-to-School campaign, utilizing a "build something awesome" theme where creators highlighted the laptop's capabilities through science and engineering projects. The campaign, executed on TikTok and YouTube, targeted American tech and STEM students and incorporated humor and authenticity to demonstrate the laptops' power and efficiency in real-world applications. The strategic influencer collaboration resulted in 3.3 million total impressions, 5.7k bio link clicks, and an influencer media value of $266,330, showcasing the laptop's prowess in facilitating and enhancing STEM-related tasks.
For Influencers: If you are looking for agencies to represent you click here.
---

Office Location: Miami, FL
Year Founded: 2018
Team Size: 10-49
The Influencer Marketing Factory (IMF) is a renowned agency that specializes in crafting and executing highly effective TikTok marketing campaigns. With a reputation for generating impressive ROI, this agency takes a comprehensive approach, aligning with Fortune 500 brands to produce global influencer campaigns rooted in creativity and strategic insights. IMF has mastered the art of harnessing TikTok's dynamic and youthful energy, ensuring each campaign resonates with the platform's engaged user base.
Key Services:
Social Media Marketing

Content Marketing

Marketing Strategy

Mobile & App Marketing

Advertising

Digital Strategy
Industries Served: Beauty, finance, fashion, Tourism and more.
Case Studies:
IMF's efficacy is illuminated through their impressive case studies. They have executed a variety of campaigns, like the 'playfoam TikTok campaign' that garnered 2.5M video views and 470k likes, and the 'pranks on TikTok' that achieved a staggering 26M video views and 6.5M likes. Each case illustrates IMF's ability to drive immense engagement and visibility for brands, underscoring their expertise and efficiency.
For Influencers: If you are looking for agencies to represent you click here.
---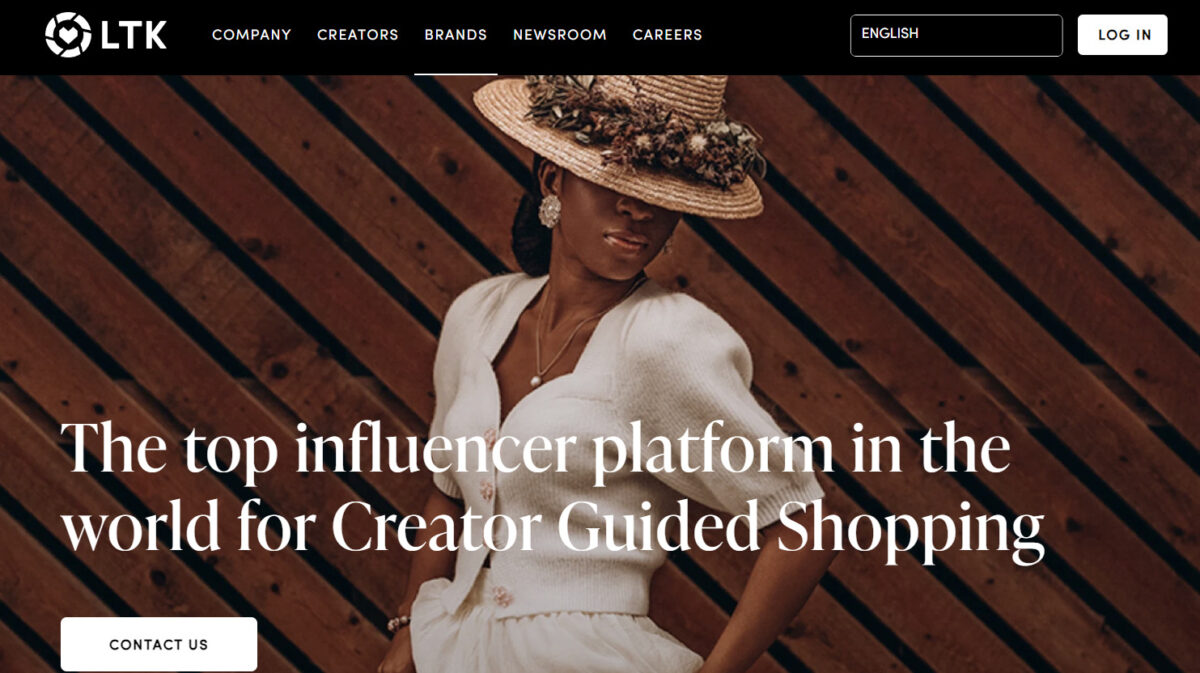 Office Location: Dallas, Texas
Year Founded: 2011
Team Size: 501-1000
LTK, a globally recognized influencer platform, emerges as a pivotal player in the realm of Creator-Guided Shopping. It encapsulates a rich tapestry of services and innovations, marking its identity as a nucleus where brand consulting, media boosting, and retail media network digital instore converge. Built upon the foundation of the renowned rewardStyle and LIKEtoKNOW.it, LTK embodies an eclectic mix of creativity, innovation, and strategic insights, poised to redefine the paradigms of influencer marketing.
Key Services:
Brand Consulting

Media Boosting

Retail Media Network
Industries Served: Retail, beauty, women's fashion, men's fashion, home, cpg, luxury, travel, entertainment
For Influencers: If you are looking for agencies to represent you click here.
---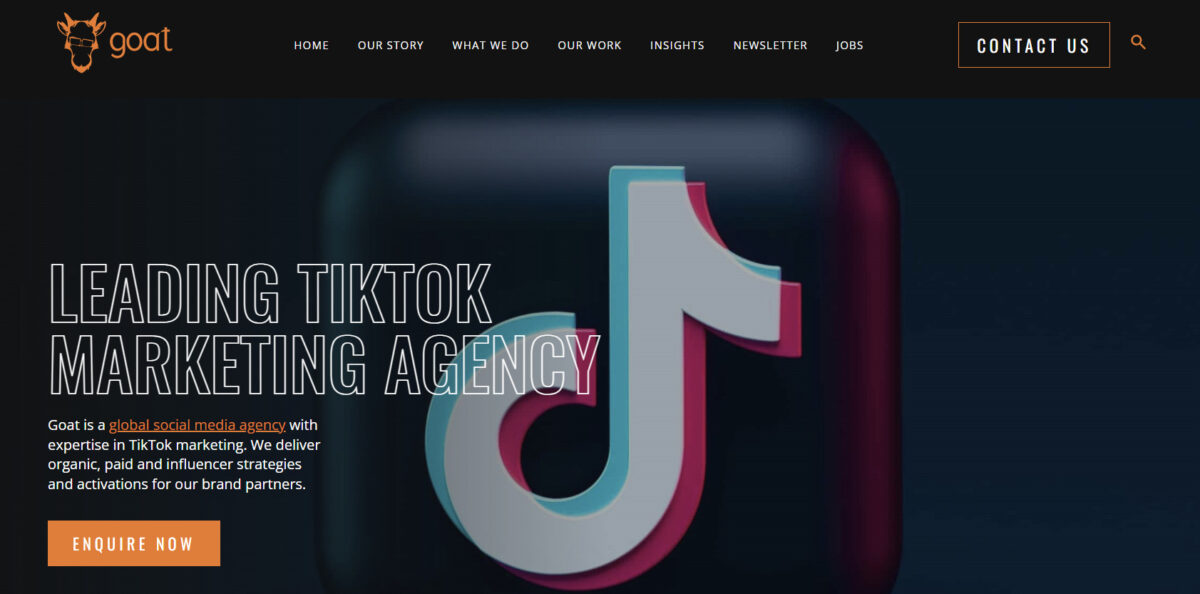 Office Location: London, UK
Year Founded: 2015
Team Size: 50 – 249 
The Goat Agency distinguishes itself as a leading TikTok advertising agency, globally acknowledged for seamlessly blending organic, paid, and influencer strategies to achieve impactful activations for brand partners. Recognized for its unparalleled expertise and innovative approach, Goat Agency is the go-to solution for brands aiming to harness the power of TikTok to reach younger, dynamic audiences, ensuring not just ephemeral virality but a sustainable, long-term presence on this influential platform.
Key Services:
Organic strategy deployment

Paid ad campaigns

Influencer activations
Industries Served: Fashion, food & beverage, technology & apps, gaming, automotive, beauty
Case Studies:
The Goat Agency features an impressive collection of successful collaborations with prominent brands, including a 7-month-long engagement with Dell. The collaboration featured 15 campaigns that garnered 168 million impressions and 229K clicks. The successful pairing highlighted Goat's capacity to deliver scale, reach, and engagement. Another collaboration with Superdrug, a dynamic beauty brand, achieved a staggering 241% view-through rate on Instagram reels. The aim was to ensure Superdrug's relevance and resonance with Gen Z and Millennial consumers, which The Goat Agency profoundly achieved.
For Influencers: If you are looking for agencies to represent you click here.
---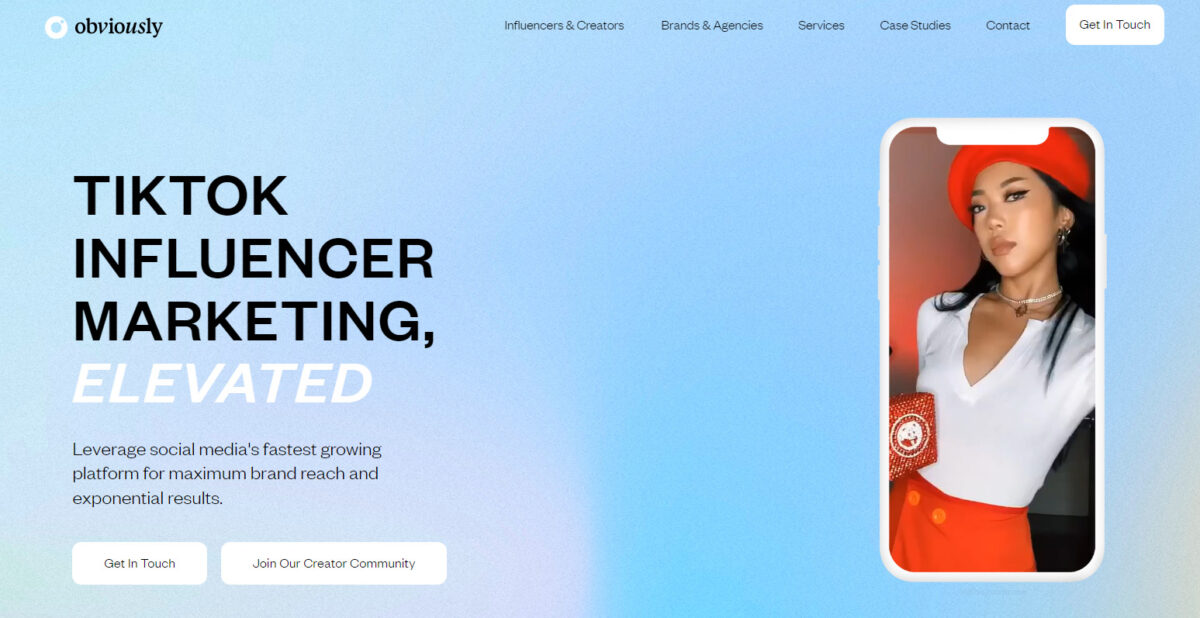 Office Location: New York City, New York 
Year Founded: 2013
Team Size: 101-250
Obviously, a pioneering influencer marketing agency, is renowned for its comprehensive and innovative TikTok marketing solutions. With a focus on maximizing brand reach and delivering exponential results, Obviously combines a deep understanding of TikTok's ecosystem with creative ingenuity and strategic precision. The agency's comprehensive services, from influencer collaborations to branded content creation, are meticulously crafted to elevate the brand presence, engagement, and impact on this rapidly growing social media platform.
Key Services:
Creative strategy & ideation

Influencer management

Music composition & licensing

Content creation

Product seeding & sampling

Viral hits creation

Paid amplification

Licensing & usage rights

Reporting & analytics
Industries Served: E-commerce, beauty, fashion, 
Case Studies:
T-fal collaborated with Obviously to leverage top-tier TikTok influencers to increase awareness about their new Air Fryer, leading to the creation of diverse and engaging content. The influencers were encouraged to creatively showcase the versatility of the T-fal Air Fryer, resulting in 12 TikTok videos that collectively amassed over 1 million views and reached 6.2 million people. The campaign exceeded expectations, attaining an above-average view-to-followers ratio of 16.6%.
For Influencers: If you are looking for agencies to represent you click here.
---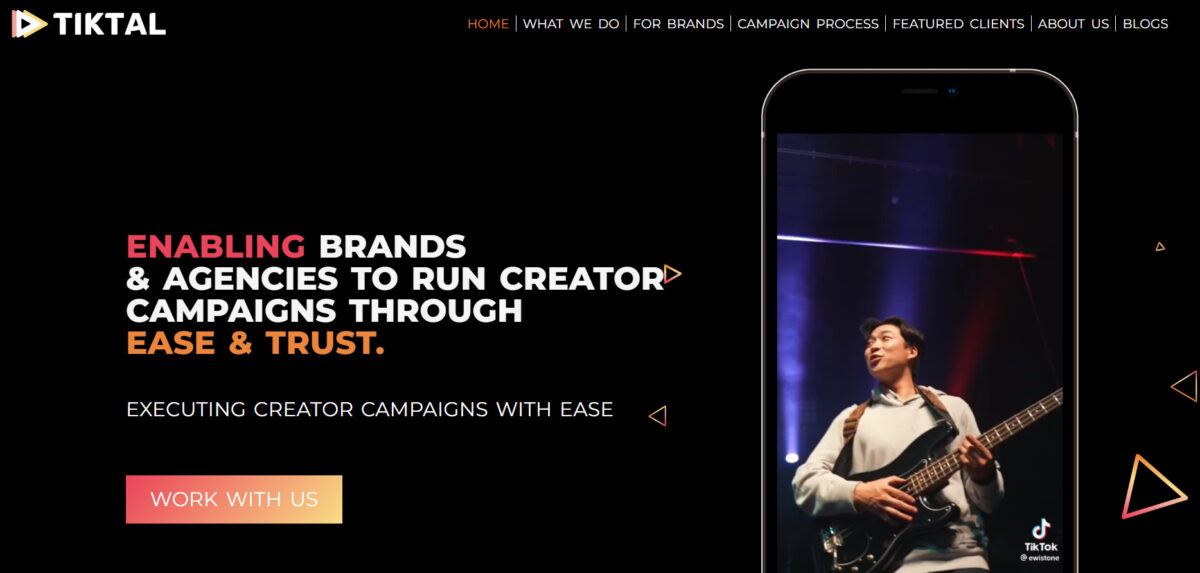 Office Location: Brooklyn, New York
Year Founded: 2018
Team Size: 51-100
TIKTAL stands as a paradigm of specialized TikTok influencer marketing, with a legacy rooted in custom creator campaigns and a present-day ethos focusing on precision, creativity, and strategic alignment. With its core competency lying in meticulously crafted and executed influencer strategies, TIKTAL takes pride in its deep-seated expertise, global creator network, and adaptive, data-driven methodologies. Nestled at the intersection of creativity and technology, the agency encapsulates a holistic approach, amalgamating strategic insights, creative ingenuity, and technological prowess to navigate the dynamic terrains of TikTok's influencer ecosystem.
Key Services:
Analyzing Campaign Goals

Creative Process Oversight

Unique Strategy Formulation

End-to-End Campaign Management

Influencer Campaigns

Media Management

Data-Driven Analysis
Industries Served: Information technology, business services, media
---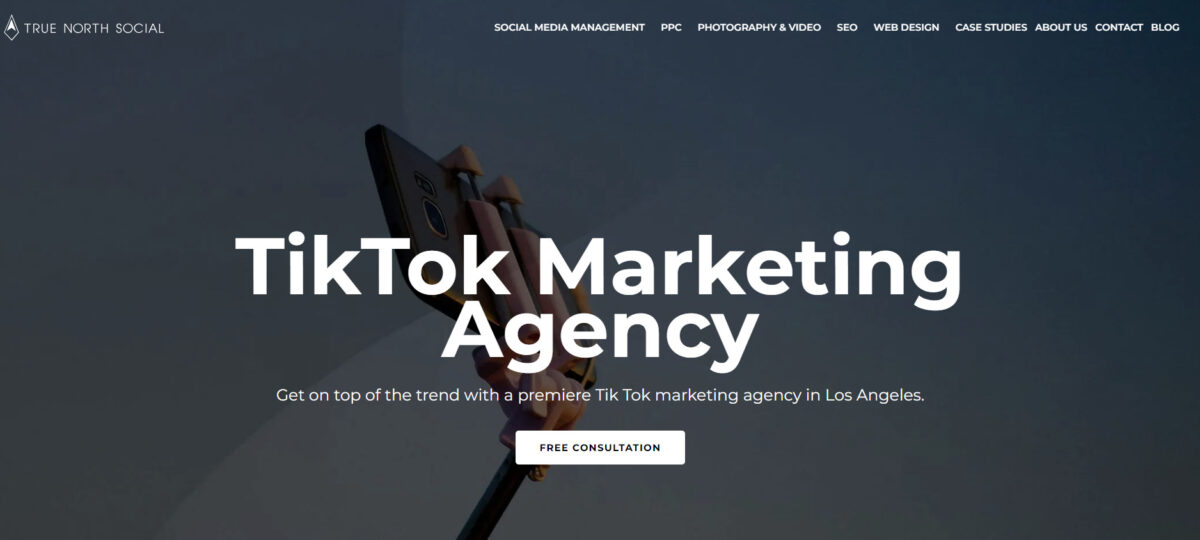 Office Location: Culver City, CA
Year Founded: 2015
Team Size: 10-49
True North Social distinguishes itself as an adept TikTok marketing agency nestled in the heart of Los Angeles, offering tailored solutions that resonate with the dynamic, fast-paced, and creative essence of the TikTok platform. With expertise anchored in comprehensive insights and innovative content creation, the agency navigates the TikTok ecosystem with precision, leveraging the platform's intricate algorithms to optimize brand visibility and engagement. True North Social melds technology, creativity, and strategic acumen to orchestrate campaigns that are not just visible but deeply resonant, fostering authentic connections between brands and diverse audience niches on TikTok.
Key Services:
Branded tiktok content creation

Community identification and management

Ad optimization

Analytics

Tiktok influencer marketing
Industries Served: Retail, arts, entertainment & music, hospitality & leisure, medical
Case Studies:
True North Social enhanced Thrive Société's digital presence through website design, social media management, photography, and Facebook ads, resulting in increased social media engagement and sales. The agency's efforts, marked by compelling imagery and an optimized online marketing presence, expanded the brand's reach and engagement, connecting Thrive Société with new users and deepening relationships with existing customers.
---
What is the Average Cost of Partnering with a TikTok Influencer Through These Agencies?
Navigating the multifaceted world of TikTok influencer marketing can be complex, especially when it comes to understanding the financial investment required. With that said, the average cost of partnering with a TikTok influencer is not set in stone; it is influenced by a myriad of factors, ensuring each collaboration is as unique as the content created.
One pivotal element influencing cost is the influencer's popularity and reach. Macro-influencers, boasting millions of followers, naturally command higher fees, often ranging in the thousands of dollars per post or campaign. In contrast, micro-influencers, with their more modest but often highly engaged followings, may offer more budget-friendly pricing, providing an accessible entry point for smaller businesses.
The nature and scope of the campaign also play a crucial role. A one-off post may incur a different cost compared to an ongoing campaign spanning several weeks or months. Moreover, the complexity of content, whether it's a simple dance challenge or a highly produced mini-film, impacts the overall investment.
However, another dimension worth considering is the geographical region in which these agencies operate.
Considering the regional variations alone can offer intriguing insights. For instance, operational costs, demand-supply dynamics, and available expertise can cause substantial price fluctuations from one location to another.
Let's take a closer look at some key regions in the United States, as per our extensive agency database, to understand the cost structures associated with TikTok marketing agencies:
Boston: Here, the average campaign size rings in at $14,639, paired with an hourly rate that's pegged at $95.
California: Moving over to the West Coast, agencies in California see an average campaign size of $13,221 and an hourly charge of $97.
New York: The Big Apple presents an average campaign size of $7,749 with agencies typically charging around $108 per hour.
New Jersey: In this state, the numbers slide down a bit, with the average campaign size at $2,849 and an hourly rate of $79.
Florida: Finally, down in the Sunshine State, the average campaign size is approximately $2,825, and the going hourly rate stands at $80.
Aside from regional differences, creative fees, production costs, and the expected ROI are integral in determining the cost. Agencies often offer bespoke packages tailored to align with a brand's objectives, audience, and budget. Transparency in pricing structures and a clear outline of deliverables and expectations ensure that brands can maximize their investment.
While there's no one-size-fits-all pricing model, the strategic alignment of campaign objectives, influencer selection, and creative execution are foundational in deriving value, ensuring that every dollar spent is a step towards achieving the desired brand visibility and engagement on TikTok.
---
How do TikTok Influencer Marketing Agencies Measure Campaign Success?
Measuring the success of a TikTok influencer campaign is pivotal. Agencies employ a variety of KPIs, metrics, and analytics tools to track, measure, and optimize the impact of influencer collaborations.
Engagement rate, a critical metric, offers insights into the level of interaction between the influencer and their audience. It encapsulates likes, comments, shares, and views, presenting a holistic view of audience responsiveness and interest. Higher engagement rates often signify content resonance and influencer authenticity.
Reach and impressions provide a quantitative lens, highlighting the extent of content visibility. Agencies scrutinize these metrics to understand the breadth of audience exposure, aiding in assessing the scalability and impact of campaigns.
Conversion rates and ROI offer a direct glimpse into the financial effectiveness of campaigns. Agencies can quantify the tangible business value delivered by tracking click-through rates, website visits, lead generation, and sales attributed to the influencer's content.
Furthermore, agencies leverage sophisticated analytics tools and platforms, integrating AI and machine learning to garner real-time insights. These tools facilitate in-depth analysis, from audience demographics to behavioral patterns, enabling agencies to fine-tune campaigns for optimal performance.
---
Conclusion
The evolving landscape of TikTok influencer marketing is rich with opportunities for brands aiming to tap into the platform's vast and engaged user base. These 11 agencies exemplify a diverse range of strategies, each offering unique approaches to content creation, influencer partnerships, and campaign execution, ensuring tailored solutions that cater to brands of all sizes and industries.
Businesses considering TikTok influencer marketing should weigh each agency's strengths, methodologies, and track records to identify a partner that aligns with their specific goals, audience, and budget, ensuring a collaborative effort that maximizes ROI and fosters authentic, lasting engagement with the TikTok community.
Frequently Asked Questions
What Niches or Industries Benefit Most from TikTok Influencer Marketing?
Fashion, beauty, and entertainment industries thrive on TikTok, leveraging visual, engaging content to connect with vast audiences. The fitness and wellness sectors also benefit from utilizing influencers to demonstrate products and share health tips, driving engagement and sales.
How Do These Agencies Ensure Brand Safety and Compliance with TikTok's Policies?
Agencies focus on meticulous content review, adherence to TikTok's community guidelines, and ensuring brand-influencer alignments that resonate with core values and ethics. They navigate regulatory landscapes, ensuring content is appropriate, ethical, and compliant.
Can Small Businesses Also Benefit from Partnering with Top TikTok Influencer Marketing Agencies?
Absolutely! Agencies offer scalable solutions tailored to various budgets. Small businesses can leverage customized strategies, accessing influencer partnerships and creative campaigns that drive engagement, brand awareness, and ROI, without breaking the bank.